Custom Domain
2014-12-30 15:28:37
wangyidong
6957
Last edited by Taotao on 2020-04-26 14:51:06
Summary : This article is to tell how to use ZenTao Cloud custom domain service.
ZenTao Cloud has customized domain names. All users can use their usernames or company domain as the second domain in ZenTao. Read the instructions below.
Domain Name Resolution

Direct the DNS of their domain to the IP or the SLD in ZenTao.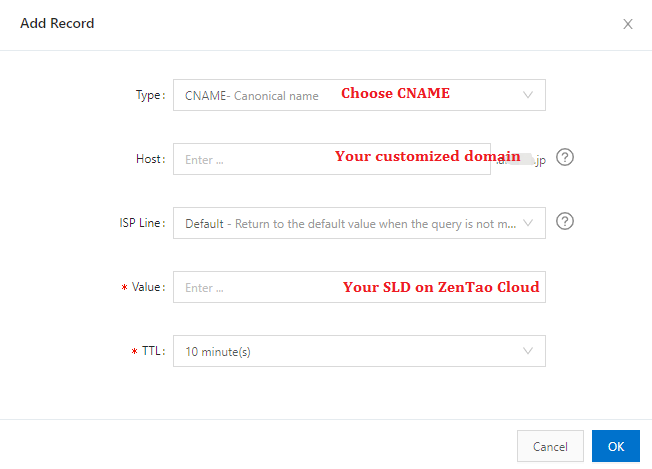 It is suggested that users use CNAME to direct your customized domain to the secondary domain purchased from ZenTao. It is in this way that the custom domain will be directed to a new IP automatically when the IP of ZenTao secondary domain changes. Therefore, a custom domain would not be affected if any changes to ZenTao IPs.
Backend Settings
Once the domain is resolved, users have to register their custom domains in ZenTao. The registration will be reviewed within 24 business hours. Once it is reviewed, the custom domain is ready.